Saturday, August 22nd, 2009
While doing backups I found this picture of Araña, one of the characters in "Wanted - weapons of fate". It has a special meaning for me. I see it both as a proof that the Barcelona office did have talented artists, and that "the management" (or whoever was behind the important decisions, it was never all that clear) was just living on another planet.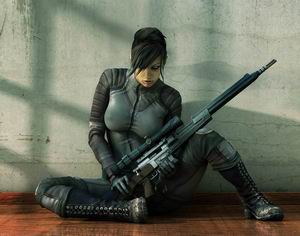 To me this is one of the most, if not the most awesome render ever created by our artists during the whole project. I think it is very obvious why it has potential. Why it would be a good idea to polish this secondary character, and give it some more screen time. Why it would draw hordes of nerds to the game. Why it would please all the fans (what do you mean you did not expect them to be disappointed when discovering that Angelina is not in the game?!). At the very least, if nothing else, put it somewhere on the box. Create posters. Send it to IGN and Gamespot, I don't know. Something.
Instead… well, did you see that picture anywhere? Exactly my point.
They saved it for a mindbogglingly weird promotional stunt in a male magazine that should remain nameless. Of all the crappy decisions made during this project, this one has to take the cake. As if the readers of [Censored] were interested in buying video games !? I don't know, maybe they got lifetime subscriptions out of that deal or something.
Damn it, this one still makes my blood boil!