FLEXPORTER HOMEPAGE
Last update : June, 3, 2003
WHAT IS FLEXPORTER ?
Flexporter is a free utility plug-in for 3D Studio MAX, designed to easily export a lot of information out of it.
Features :
Works with MAX3, MAX4, MAX5
Meshes, cameras, lights, helpers, shapes
Primitives (box, sphere, capsule, etc)
Gizmo objects
Materials and submaterials
All textures (diffuse, opacity, bump, whatever)
Texture downsampling and filtering if needed
Texture quantization
Cropping values
Character Studio BIPED and PHYSIQUE
Hierarchy
Instances
User defined properties
Groups
Environment
Time related information
Animation controllers (PRS, some camera & light parameters)
Sampling or keyframing
Visibility track
Automatic convex hull computation
Automatic bounding sphere computation
Automatic inertia tensor computation
Mesh consolidation
Mesh optimization
User-defined export formats
Morphing
IK data
Full scene scaling
...and much more !
DOWNLOAD
Version 1.17b
Version 1.16
People at Game Institute may need those ones:
Version 1.06
Version 1.04
Check the Options I'm using if you want to read some files with Ice or Flexine...
Related stuff :
- Consolidation code
I am still working on Flexporter from time to time, but this project is not officially supported anymore. I do not plan another future public release. On the other hand, the source code is now freely available.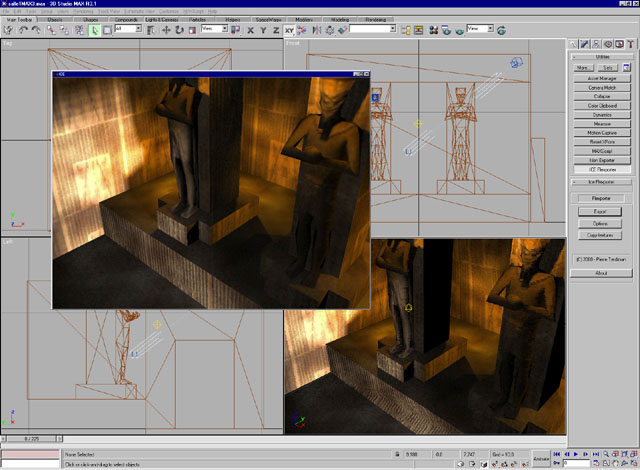 Right: the scene in MAX 3.1 Left: the flexported replayed scene in ICE.
© Pierre Terdiman 2000-2003