Sunday, May 20th, 2012
I heard a rumor. My brother had a friend whose brother had a brand new computer… Intrigued, I arrived at the friend's place, whose brother was the happy owner of an Atari 520 STF. This was a mythical machine whose prowess I had read about in the first issue of Génération4. But I approached it unsuspecting, jaded, not expecting much. On paper the screen resolution for the ST was the same as for the Amstrad (320 * 200), the sound processor was quite similar (3 channels, soundchip tunes), and thus I thought both machines would be of comparable quality, with maybe a performance edge for the ST since it was running at a higher clock frequency…
Not at all! What a mistake I made that day, to lower my guard!
First image, first shock.
First note, first slap in the face.
Goldrunner. Head on. I could have thrown myself head first against a wall, the effects would have been the same.
Mouth open, staring eyes. What can I say? Impossible to explain in human words. Complete and utter disbelief.
Ruthless, the brother of the alleged "friend" (a friend, right?! (*)) shows off one game after the other, while my body and soul tremble with jealousy.
And then, then, to finish me off with a sadistic pleasure, he ran… a demo! A fucking demo! And not the lousiest one: the L.C.D. from The Exceptions!
I eat this at point-blank, the impossible comes true in front of me, TEX, Mad Max and his gang for an intense and concentrated mix of extreme code, mindblowing music, never seen before, never heard before, unreal.
As a final kick in the nuts, and to make sure I go back home with my brain in my socks, he presses the RESET button… And I witness my first Reset demo, made of digitized applause samples ripped from 10th Frame. That's it, I'm done. Overdose. I have seen too much in too little time. My saturated mind does not register anymore what goes on around me. I must leave.
I go back home on autopilot, in zombie mode. Disgusted. Absolutely and terminally disgusted. I do not understand how the two machines, ST and CPC, with similar specs on paper, can be so different. I do not understand and I do not bloody care! I need a ST. In two days or two years, no matter how long it takes, I must have an Atari. How else could it be?
The transition period is unclear in my mind. I guess I kept playing on my CPC, a bit sad. But anyway, you guessed it, one day I finally got a ST.
I got an ST, and it changed everything.
The first days were incredible. I was in awe of even the beep sound effect from the Atari's keyboard, it was so pure and crystal clear! I was amazed by Barbarian from Psygnosis. Just as the CPC was a different world compared to the Apple IIe, the ST was another galaxy compared to the CPC. There was no competition here. I experienced almost a big slap a week, and always came back asking for more. One day I bought Captain Blood. And when I heard the intro music, the first digital music I heard in my life, I just went bonkers. There was a gaping hole between this and my little music from The Temple of the Sun, and I was dizzy, looking straight into the abyss. At this point there was only one thing left to do: I laughed frantically, thinking the future would be eventful and tumultuous.
As it turned out, I was right about that.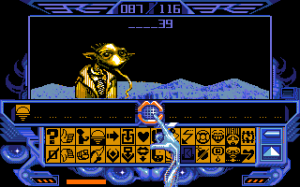 (*) Despite what I wrote above, we became very good friends afterwards. I spent countless hours at that guy's place, watching ST demos or playing ST games. That person was Amaury Aubel, now working as Head of Effects for DreamWorks.